Classroom Response with Collaboration
November 01, 2016
Classroom Response with Collaboration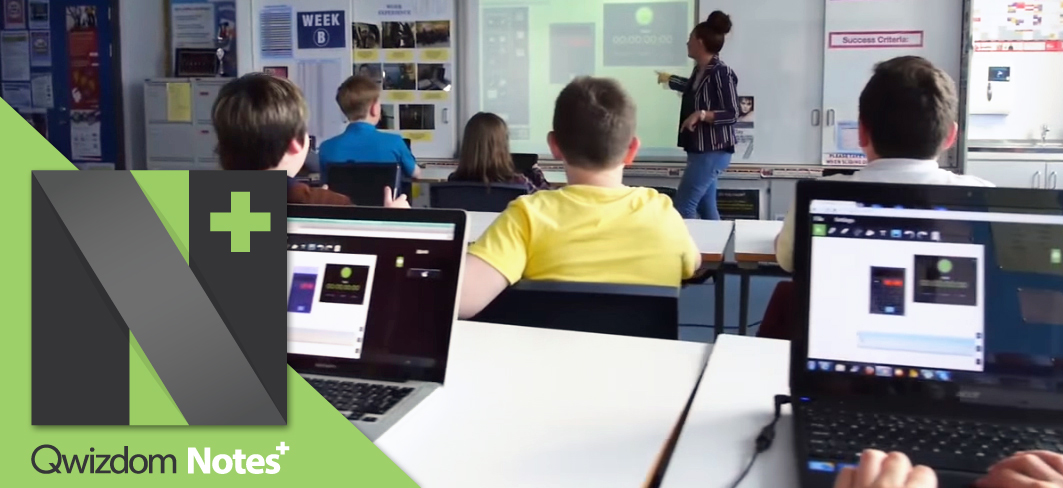 This month I wanted to share a little known secret about Qwizdom Classroom Response. As you may already know Qwizdom is a leading provider of student response systems. Many schools across the globe have implemented our clickers and curriculum into their classrooms. You may also know about our web response app, called QVR, which enables students to follow along and respond to questions using a mobile device. BUT did you know about our Collaboration App called Notes+? This app runs off of your local network, so no internet is needed.
Notes+ allows your students to view live sessions, take notes, respond to questions and share their work with the class using any tablet or laptop. Did you know that you get 5 free student licenses when you download Qwizdom Connect Software? Think of the possibilities! Imagine giving your students a complex problem to solve as a team. Students collaborate, record and share their findings with the class. The App's annotation tools are perfect for students showing their work on a math problem. Teams could also investigate, share and record results of a science lab, using the camera, annotation and note taking tools.
You can further enhance the Notes+ App by using it with our pre-made content. Go to connect.qwizdom.com to preview and download a wide range of activities. All content not marked with a green flag or labeled ReadySet is free.
Notes+ is compatible with Qwizdom Oktopus software designed for interactive projectors and whiteboards. Create engaging lessons with over 70 teaching widgets, 8 polling questions and 5 student collaboration licenses. Oktopus software licenses are available for purchase.
Here's how Qwizdom Collaboration Works!
Download and install the latest Qwizdom Connect Software here and then launch a Qwizdom Connect Presentation.
Select the Device Settings tab in Presentation Setup window and check Enable Local Network Communication.

Instruct your students to open the App and select File / Join Session.

Students enter the local IP address of the presenter's computer–displayed on the feedback response indicator (see below). Enter the port number not including the 4 digits following the colon. For example, 192.168.1.120. If you are using a laptop, connecting to an active session is a little different. Go here for instructions.

Response Indicator

Once your students have joined the session, click on the Collaboration icon and select students to share their screen with the class. (Hint: Use a class list to display student or team names.)
Instruct students to click the Collaboration icon to share their work with the class.

Try Notes+ today and start collaborating. It's quick to set up and free when used with Qwizdom Connect. Engage students with practice questions, instant feedback and collaboration. Keep everyone focused and on the same page by synchronizing your lessons across all of the devices. Contact us if you would like a classroom collaboration license, so everyone can follow along, annotate and respond.
Categories:
Tags: classroom reponse , classroom collaboration , classroom response system , student response syste , student response app , apps for classroom