Creating PowerPoint Magic in 5 Easy Steps
September 15, 2016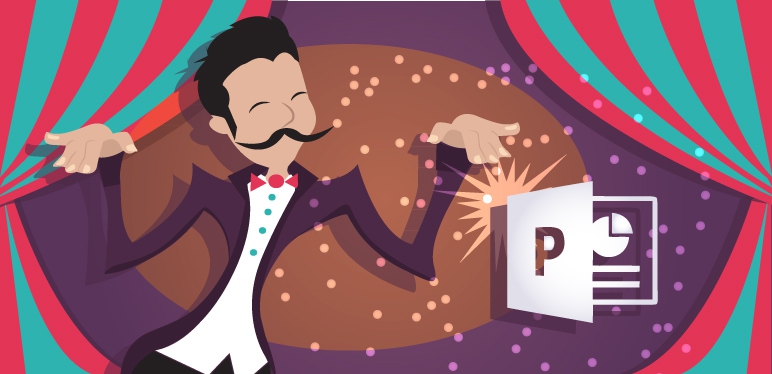 Creating PowerPoint Magic in 5 Easy Steps
What is PowerPoint magic you ask? Well, it's adding that extra pizazz to your PowerPoint® presentations that leaves your audience pumped and motivated. It's seeing your audience sparkle with delight as their opinions are displayed in high definition for all to see. It starts with your knowledge and passion, which is then turned into a carefully designed, well-planned presentation that's delivered with a hint of live audience voting.
Step One: Be Yourself, Be Confident and Know Your Topic
I'm a huge fan of TED talks. The main reason is that the speakers are knowledgeable, confident and passionate about their message. They are the poster children for excellent public speaking, from their body language to their cadence. They can capture attention and delight audiences. Get inspired and watch a TED talk today. www.ted.com/talks
Step Two: Organization
I remember my first public speaking class I took in college. My teacher said… creating a presentation is similar to writing an essay. This statement blew my young mind. I mean… come on, what was this crazy person talking about? Public speaking and writing papers are two completely different things.
Once over my initial reaction, I started to listen. She was right. It's quite easy to organize your presentations by writing an outline. The outline is the backbone that keeps you focused on flushing out your main points.
Check out: Six Minutes Public Speaking and Presentation Skills for several different outline structures from the Basic Outline to the Scientific Conference Talk.
Step Three: Short and Sweet
None of us want to be remembered as Ferris Bueller's Economics Teacher (played by Ben Stein), or long-winded and pedantic. When preparing for your presentation, brainstorm ways to create condensed sentences and phrases that have high impact and are loaded with meaning. For instance, John F. Kennedy once said, "Mankind must put an end to war or war will put an end to mankind." Also keep in mind the 10 Minute Rule. Try to keep your presentations under 10 minutes, or be sure to re-hook your audience's attention with an emotionally charged question or anecdote about every 10 minutes.
Step Four: Audience Voting Software
Try something a little different and quickly poll your audience using interactive voting systems or clickers. Don't leave the polling to the end. Use it to recapture attention, demonstrate a point, or find out the audience's interest/knowledge on a specific topic. See Qwizdom in action, used by Ruston Hurley, an accomplished trainer and public speaker. Watch Video Clip
Step Five: End with a Bang!
There are many ways to make an impression, but I think my favorite is ending a speech with a call to action. It's strong and powerful. It gives your audience something tangible to walk away with.
For example: It's time to start pursuing your dreams. As president Roosevelt said:
"Far better it is to dare mighty things, to win glorious triumphs even though checkered by failure, than to remain with those poor spirits who neither enjoy much nor suffer much because they live in the gray twilight that knows not victory nor defeat."
Time is too short to be unhappy. There is no time to dwell on the past. It's time to make a change, conquer our fears and live healthy, happy lives.
Check out: 10 Ways to End Your Speech for more ideas.
I hope that I have inspired you with a couple new ideas. Go forth, share your passions and change lives one idea at a time.
PowerPoint® is a registered trademark of Microsoft Corporation in the United States and/or other countries.

Categories: Audience Polling
Tags: interactive voting , powerpoint polling , powerpoint voting , live audience voting , audience voting software , interactive voting system , interactive voting systems