Game Zones (Social Media) Comment Terms
January 30, 2019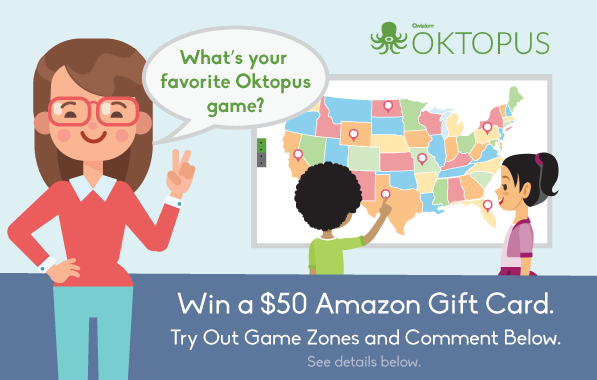 Game Zones Comment Terms of Use:
COMPETITION TERMS & AGREEMENTS
NO PURCHASE NECESSARY. VOID WHERE PROHIBITED.
ELIGIBILITY:
The 2019 Game Zones Comment ("Contest") is open only to legal residents of the fifty (50) United States and the District of Columbia who are seventeen (17) years of age or older and are actively employed as a K-12 classroom educator. Employees, officers and directors of Qwizdom Incorporated, Boxlight, and Mimio, as well as the immediate family (defined as parents, spouse, children, siblings and grandparents) and household members of each such employee, officer and director are not eligible to enter. Any person who has been awarded a prize or reward from participation in a Qwizdom sponsored promotion in the past 18 months are not eligible to enter. All federal, state and local laws and regulations apply. By participating in the Contest, entrant fully and unconditionally agrees to and accepts these Official Rules and the decisions of Qwizdom Inc., which are final and binding. Void outside of the U.S. and where prohibited by law.
CONTEST PERIOD:
The Contest period begins on February 5 at 12:00 AM CST and will end on February 7, 2019 at 5:00 PM CST. The selections for the contest award will take place on or about February 7th, 2019.
HOW TO ENTER:
During the Contest Period, go to https://www.facebook.com/qwizdom/, https://twitter.com/Qwizdom, or https://www.instagram.com/qwizdom.us/ and comment on the Game Zones post to enter the contest. No purchase necessary. You must comment on a specific Game Zones game explaining how/why the game has helped with your instructional practice, provide suitable contact information and agree to Contest terms & conditions. By commenting, you agree to allow Qwizdom Inc. (a Boxlight company) rights of use, reuse and reproduction for marketing and corporate communications purposes. This includes any images, video, testimonials or other content included in or referenced in any Contest entry. Limit: up to two (2) comments per person, per social media page allowed for consideration. If more than two (2) comments are received for a single individual, the individual may be disqualified from the contest. Preference is given to comments which contain multimedia (images or video). Any use of automatic, programmed or similar entry methods or agents (including but not limited to sweepstakes entry services) will void all comments/entries by that entrant. Comments will be acknowledged with a "like", or similar, within 48 hours of post. Qwizdom Inc. is not responsible for late, incomplete, invalid, unintelligible, technically corrupted or misdirected comments, all of which will be disqualified. In the event of a dispute as to the identity of an entrant ("commenter"), the authorized social media account holder used to comment will be deemed the entrant. The "authorized account holder" is the natural person assigned to the social media profile by the website responsible for assigning profiles for the respective domain.
JUDGING CRITERIA and NOTIFICATION OF POTENTIAL WINNERS:
Social media comments will be reviewed by judges selected from Qwizdom, Inc. and its affiliates that currently serve in marketing and communications roles ("Judging Panel"). Comments must be posted by 5:00 pm CST on February 7, 2019. The Judging Panel will select up to ten (10) comments (the "Finalists") based on the following judging criteria:
1. Originality (25%): Does the comment introduce a creative, original, innovative perspective?
2. Relevance to Teaching (25%): Does the comment relate to teaching and learning?
3. Effective Use of Multimedia (50%): Does the comment leverage and use video, images, screen casts, animations or other forms of multimedia?
Qwizdom Inc. (a Boxlight company) will announce the Winners on or about February 7, 2019 on each Qwizdom social media page (Facebook, Twitter, Instagram) and attempt to notify individual commentators via e-mail and/or direct messaging (at Qwizdom Inc. discretion and using the information provided). If a Winner cannot be contacted within seven (7) days after the first attempt to contact him/her, another Winner will be selected in his/her place at random from among all eligible Finalists. Potential winner must comply with all terms and conditions of these Terms and Conditions and winning is contingent upon fulfilling all requirements.
PRIZE: $50 Amazon Gift Card
PUBLICITY:
Acceptance of any prize shall constitute the Winner's consent to Qwizdom Inc. (a Boxlight company) use of the Winner's name, likeness, voice, opinions, prize information and hometown and state for promotional purposes in any media, worldwide, without limitation and without further payment or consideration, except where prohibited by law.
RELEASE AND LIMITATIONS OF LIABILITY:
By participating in the Contest, entrants agree to release and hold harmless Qwizdom Inc., its officers, directors, employees, affiliated companies and agents (collectively, the "Released Parties") from and against any claim or cause of action arising out of participation in the Contest or receipt or use of any prize, including, but not limited to: (a) unauthorized human intervention in the Contest; (b) technical errors related to computers, servers, providers or telephone or network lines; (c) printing errors; (d) errors in the administration of the Contest or the processing of entries; or (e) injury or damage to persons or property which may be caused, directly or indirectly, in whole or in part, from entrant's participation in the Contest or receipt of any prize, including but not limited to property damage, personal injury and/or death arising out of participating in this Contest, or the acceptance, possession, use or misuse of prize and claims based on publicity rights, defamation or invasion of privacy. Entrant further agrees that in any cause of action, the Released Parties' liability will be limited to the cost of entering the Contest, and in no event shall the Released Parties be liable for attorneys' fees. Entrant waives the right to claim any damages whatsoever, including, but not limited to, punitive, consequential, direct or indirect damages. Except where prohibited, entrant agrees that any and all disputes, claims and causes of action arising out of or connected with this Contest or any prize awarded shall be resolved under the laws of the State of Washington, without respect to any conflict of law issues, and entrant agrees that such shall be resolved individually, without resort to any form of class action, and exclusively by the U.S. Federal and State Courts of Washington.
GENERAL CONDITIONS:
If for any reason an entrant's entry is confirmed to have been erroneously deleted, lost or otherwise destroyed or corrupted, entrant's sole remedy is another entry (comment) in the Contest. Qwizdom Inc. reserves the right to cancel, suspend and/or modify the Contest if any fraud, technical failures or any other factor beyond Sponsor's reasonable control impairs the integrity or proper functioning of the Contest, as determined by Sponsor in its sole discretion. Sponsor reserves the right in its sole discretion to disqualify any person it finds to be tampering with the entry process or the operation of the Contest or to be acting in violation of these Official Rules or in a disruptive manner. Sponsor's failure to enforce any term of these Official Rules shall not constitute a waiver of that or of any other provision.
Categories:
Tags: