How to Modernize Your Training Program
April 04, 2017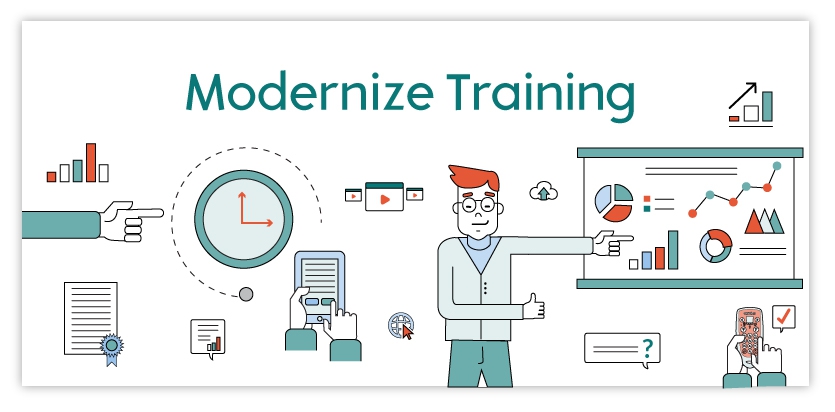 With more and more Baby Boomers reaching retirement every day and Millennials quickly joining the work force, now is a perfect time to start looking at ways to update your current training programs. The work force is undergoing a large generational shift. Many organizations are scrambling to find cost-efficient ways to train new employees while keeping their current staff productive and engaged. Implementing technology into your current training program will help you to better connect with a younger, tech savvy generation while still keeping materials relevant and engaging for your experienced staff members.
The article below covers strategies that will help boost productivity, better meet the needs of your staff and streamline training. The pace of change is intense and companies are under pressure to adapt as quickly as possible. Blending classroom technology with online learning can help organizations reach their goals and modernize training in a cost effective and timely manner.
Ease into Technology
A great way to begin is to ease into technology. Find ways to blend your current classroom training practices with mobile and online solutions. There is no need to throw out your current materials or practices, simply enhance them. For instance, many audience response companies have PowerPoint plugins that allow you to tag slides with interactive questions to enhance participant engagement and instantly record results. Participants can respond to questions using their mobile devices or hand-held clickers. This gets everyone involved and can be used as a spring board for more in-depth discussions. If you are already using paper certification or evaluations, you can quickly turn these into more efficient means of testing by using Qwizdom Answer Key software application. Participants work through the test at their own pace, submit their answers using a response device and results are collected instantly. Participants are given real-time feedback and instructors can export results post-session.
eLearning platforms have become easier to use and require less setup. One of these solutions is called Actionpoint 360. The setup is simple. Quickly, upload tagged PowerPoint presentations and other web documents into the cloud. Materials can be organized into online courses for anytime access. So, if you know PowerPoint, you know how to instantly create online assessments.
Break it up
Present materials in short digestible bits of information. Having the ability for participants to access content independently, either prior to or following classroom instruction, can be a useful way of breaking it up. This allows you to spend more classroom time on social, group learning exercises, thereby enhancing employee relationships and improving communication.
Videos Mixed with Assessments
Videos can quickly deliver information that reaches a variety of learning styles. It gives more advanced staff the ability to quickly refresh current skills, while new employees can slow down and replay portions as needed. Videos, followed with short assessments, let you evaluate training materials' effectiveness and participant retention.
Videos can help reduce lecture times, so classroom training can be spent on practicums and other hands-on training exercises. Many eLearning platforms, such as Actionpoint360, allow you to distribute online videos quickly, and package videos with assessments.
Track Performance with Ease
Old classroom practices of recording and tracking performance by hand can be time-consuming. eLearning platforms help to reduce time and provide information on completion, engagement and areas of focus. Participants enter their answers during a live, group training session using a response app. or through an online, self-paced activity. All results are collected instantly and saved in a convenient location.
Instant feedback is provided to participants, giving them the information when they are most receptive, therefore improving learning and retention. Additionally, participants receive a clear understanding of areas of focus for their own professional development.
Personalize Learning
Participants want to consume and learn materials at their own pace. Providing online access to training materials allows participants to take ownership and become more enthusiastic learners. They can spend as much or as little time as they need on materials, letting them customize their own learning. Online assessments, packaged with other web materials, help to gauge participant learning, making sure that everyone is on the same page and understanding key points. With materials available anytime, it relieves scheduling conflicts and stress for everyone. Employees are free to complete training from the road, or from the comforts of their home. In a world where everyone is consistently on the go, having this level of flexibility provides much needed convenience, allowing evaluations to be completed on-time and on-budget.
Maximize Participation Get everyone involved. Response clickers and apps encourage everyone to answer questions, thus helping to create more social and interactive learning environments. Participants receive instant feedback, and results can be displayed to the group, helping the instructor to tailor instruction based on participant knowledge and understanding.
Through this quick read, I hope you gained some insight on how you can start modernizing your training programs to better meet the needs of a diverse and quickly changing workforce. No need to make the change overnight, simply reflect on your current practices and see how you can bring a new practice, or new technology into your program. Technology is not meant to replace instruction, but to simply enhance it. Please reflect and share: what types of technology and systems have been implemented in your training program that have improved learning and participant satisfaction? Are you looking for more ideas? See below for a couple insightful reads.
Reference Materials:
Fry, Richard "Millennials Surpass Gen Xers as the Largest Generation in the U.S. Labor Force." Pew Research Center. 2015 Web 18 December 2016 : http://www.pewresearch.org/fact-tank/2015/05/11/millennials-surpass-gen-xers-as-the-largest-generation-in-u-s-labor-force/
Bereziuk, Euengia "How We Work: 4 Trends Shaping the Future of HR in 2017." CMS Wire. 2016 Web 21 December 2016: http://www.cmswire.com/digital...
Bernin, Josh "Explosive Growth in Corporate Training Market" Bersin by Deloitt. 2013 Web 21 December 2016 : http://blog.bersin.com/explosi...
Parker, Rob "What do Millennials Expect from Technology and Customer Service?" Full Fabric 2015. Web 18 December 2016 : http://blog.fullfabric.com/mil...
March, Tom "13 Reasons Why Digital Learning is Better."TomMarch.com 2012 Web 18 December 2016: http://tommarch.com/2012/01/di...
Categories:
Tags: response app , response clicker , hand-held clickers , audience response system , audience response app , elearning , e learning , corporate training , Actionpoint360 , Qwizdom