Supporting Our First Responders
February 14, 2019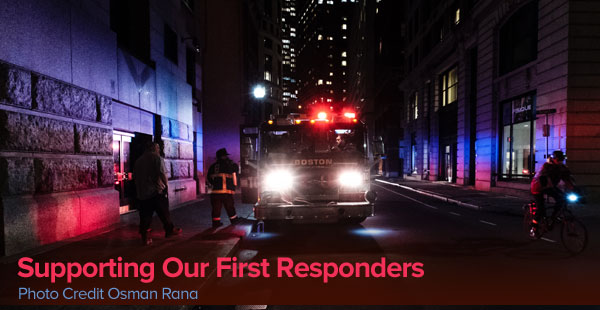 Every day, first responders put their own lives on the line to ensure our safety. The least we can do is make sure they have the tools to protect and serve their communities. - Joe Lieberman

Imagine the following scenarios that first responders face regularly:
An apartment on the sixth floor of building is on fire. Flames and smoke are pouring out of the windows but that's all that can be seen from the ground level. Two police officers arrive ahead of the fire department. Should the officers rush into the building looking for tenants possibly trapped inside?
A police officer arrives on the scene of a burning car on the side of the freeway. The officer sees the driver who appears to be unconscious. Should the officer immediately open the car door and pull the driver from the car?
First responders – police, fire, and medical units – arrive at the scene of a possible active shooter at the local shopping mall. People are running out of the mall but shots can be heard in the background. What are the next steps for the responders on scene?
These are real-life situations for first responders, so preparation is key. Where a few seconds can make a difference, quality training programs that delve into critical situations can ultimately lead to lives saved. Before facilitating a training exercise, first responders are expected to engage in training on current preemptive procedures. The material describing protocol can be dense, but there is a way to engage the learner while keeping them focused on the instruction using interactive software like Actionpoint, a PowerPoint plugin. How can you use Actionpoint?
Create an Active Learning Environment - Anywhere
After creating a slide presentation, use Actionpoint to create multiple choice, true/false, yes/no, numeric, and short answer questions for selected slides. This simple-to-use plugin can be used to facilitate a presentation wherein participants can follow along on any mobile device or respond to the questions using a wireless clicker or remote. You can also upload the lessons directly into Actionpoint360, our online training solution, so participants can work through content at their own pace. With the busy schedules of first responders, providing a means for them to review valuable information at any time is important.
"In-the-Moment" Learning and Remediation

During a training session, you can quickly poll participants to assess understanding. Because participants can input an answer and receive right/wrong feedback on their mobile phone or ARS device, and a results graph can be displayed to the group, learning progress can be gauged in real-time, instead of after a session. This means that you can immediately correct misconceptions and adjust instruction to better meet the needs of the participants. In the long-term, this method accelerates learning, results in improved learning retention, and can help prevent accidents during training exercises.
Instant Feedback and Data Analysis

Whether using our response app or ARS devices, participants can work through quizzes and exams at their own pace. You can monitor individual participant progress in real-time, using the Answer Key application. Exams are instantly scored and can be exported for use in another system or used with Qwizdom reporting tools.
Access Learning Materials Anytime from Anywhere
Actionpoint360 is an online training platform that lets you schedule, manage, and document all training including making material available for participants. Participants receive an email notification letting them know new materials are available. This is a valuable tool when participants are unable to make a scheduled training session due to a real-life emergency situation. You can make all training materials available online for access anytime, including downtime. Participant results data is stored in the cloud for anytime access. View, manage, and analyze data. Not only will you feel the success of enhanced learning, but your participants will have the ability to build on their knowledge base at any time.
What All This Means for You

The responsibilities of a first responder are great, taking action in an emergency with or without additional support. First responders must know the how, when, and whys of assessing a situation before making a move. Why not increase the likelihood of success by facilitating enhanced training, anytime, anywhere?
To read more about the benefits of using Actionpoint in training first responders, please read about veteran public safety official Victor McCraw and his experience using the Qwizdom solution system.
Categories: Audience Response , Audience Polling
Tags: Actionpoint360 , audience response system , audience polling , interactive voting system , powerpoint polling software , powerpoint polling , training