Using Simple Tech for Training and Meetings
February 18, 2020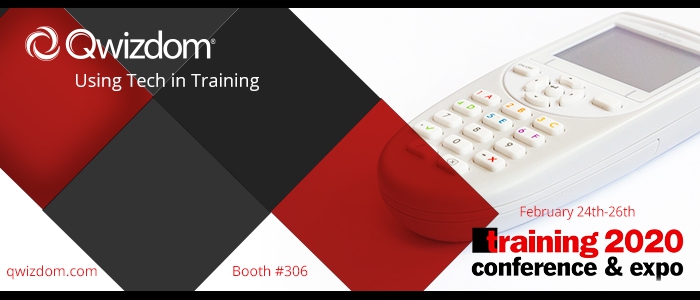 Facilitating trainings and company meetings – whether a few employees in a conference room or dozens in a large space – can be challenging. Yet, these types of meetings are necessary to keep company employees properly informed and ensure certifications. So, what can be done?
Why and How with Tech Tools
Training can be hit or miss. Your learners can be alert, focused, and motivated or they can be tired, indifferent, and distracted. Nothing is more disconcerting than having everyone looking down at something (e.g. cellphone, handouts from another training, newspaper, etc.) while you're in front of them trying to share good, meaningful, vital information. Minimize distractions and enhance trainings with activities that boost interaction and discussion so that learners stay open and involved in the training. By using simple technology to improve interaction, this deeper level of learning can also help them recognize and understand how the information shared can mean the difference in how their programs and projects succeed (i.e. the "I learned something!" moment).
A simple tech tool that has often been used to involve training groups of various sizes is a "clicker" or polling device, usually part of an audience response system. Many audience response systems use a two-way RF technology (i.e. internet is not required) to help trainers navigate through a PowerPoint presentation, all the while collecting important assessment data and providing immediate feedback to learners. Do you want to know how this simple tech can work in a training? A few ideas are described below:
Training with ARS
Icebreaker – "Would You Rather…?"
This can help create a relaxed atmosphere before delving into the contents of the training. Pose a few light-hearted questions like, "Would you rather eat strained peas or strained carrots?" or "Would you rather be stuck in an elevator with Big Bird or with Kermit?" The learners use their clickers to answer. Post results for a fun way to get everyone comfortable with one another and start the training on a positive note.
Use the random pick feature for Actionpoint to call on participants. Each participant will share two facts about themselves, starting with "I am…" (facts, not opinions, like 'I am king of the world.'). As the trainer, start with your facts to build connection with your learners.
Game for mid-session (after lunch) and end of session – Fast Track
This is a fun way to find out what information is sinking in. Create a PowerPoint presentation with about 5-10 slides that are presented as trivia questions. Learners will be divided into teams and "race around the track" based on correct responses and speed. At the end of the game, the winning team gets a prize (candy bar, company mug, etc.). The purpose of this game is two-fold: 1. Motivate the learners after a long break, and 2. Redirect instruction so that learner needs are met (What are they understanding? having trouble with? want to know more about?) and address those needs in the training. The "game" can also be played at the end of the session to compare understandings.
"Make every interaction count, even the small ones. They are all relevant." – Shep Hylen
Using an audience response system, with all of the perks of data collection and analysis, posing questions in-the-moment to adapt to learner needs, and games to break up the monotony of presenting slide after slide of information can make all the difference in training engagement and improvement. To learn more about how Qwizdom Audience Response Systems can help with your company trainings, go to www.qwizdom.com.
Categories: Audience Response
Tags: audience response , audience response system , audience response best practices , audience engagement , audience participation , training , training certification , immediate feedback , improve learning