Using Student Response Systems to Improve Learning
July 13, 2017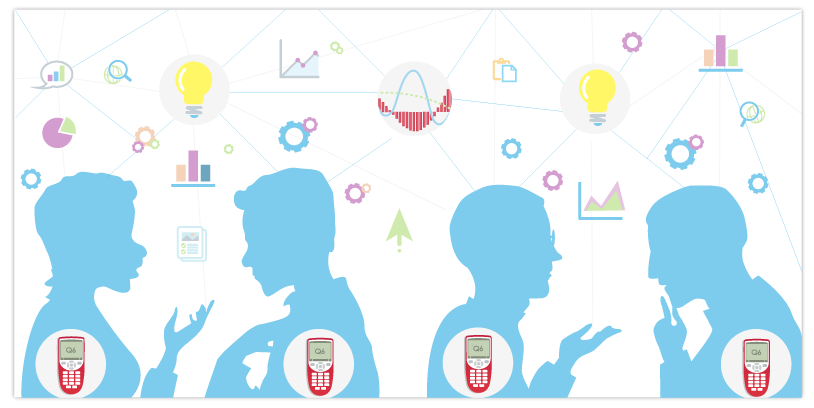 Effectively Using Student Response Systems in the Classroom
Introduction:
Classroom clickers, also known as student response systems, help educators engage students and improve learning. Studies completed by the University of Colorado found that when clickers are used in an 'interactive engagement' course they help to improve retention rates by sparking discussions and getting students actively involved in learning. See below for a brief overview of findings, and discover a few techniques that educators and researches have found effective.
Summary of Findings:
Richard Hake 1 compared learning gains, newly acquired knowledge, of traditional lecture courses compared to interactive engagement courses. Interactive engagement courses use a combination of interactive discussions, both instructor-led and small group, with some hands-on activities that provided immediate feedback to help deepen conceptual understanding. Traditional lecture courses use methods of passive-student lectures, recipe labs and exams.
He surveyed over 6,000 students and found that in the highest performing traditional lecture courses, students retained about 25% of the most basic concepts presented in the course. In interactive engagement courses, his studies found that learning gains were 25 – 70%. This means the lowest performing engagement courses performed as well as the highest performing lecture classes.
Building on Hake's research, the University of Colorado ran a few studies exploring the impact of peer instruction and student response systems on learning outcomes. It was found that when peer instruction and group discussion was used as a form of engagement, learning gains were 25%-45%. When clickers and small group discussion were combined with recitations and tutorials, learning improved 35%-70%.2
Effectively Using Student Response Systems to Facilitate Interactive Engagement
The research found that learning outcomes where improved not merely by student response systems but by active learning. Student response systems help foster a safe, active learning environment through discussion, critical thinking and participation. Below are a few examples of how UC successfully implemented and used student response systems to facilitate interactive engagement.
In order for clickers to be used effectively, students need to understand why clickers are being used in the classroom. Describe how they will be used and get students on board. Explain to your students that clickers are not simply for tracking participation or quizzing but rather will be used to enhance discussion and peer learning.
How do you get students talking? Set it up as an expectation, i.e. this is what we do in class, discuss and debate ideas. Divide the room up into groups and set the expectation that the group will need to decide on and submit a single answer. Write questions that are challenging and not overly simple. Questions should help drive the class. Some instructors have found that using questions asked by former students have been the most interesting and challenging questions.
Circulate around the class and listen to what students are discussing. It was observed that when a teacher walked around the room, students were more likely to ask questions and engage instructors in small group discussions. Start to draw an end to discussion when about ¾ of the groups have responded. Once the results are in, don't simply provide the answer. Call on students or groups to explain their answers, or ask why they think someone might have answered 'A' when the correct answer is 'C'. Discuss the answer, talk about the correct problem-solving process. Some instructors have even found success in waiting to show the results until after the larger discussion.
Using Qwizdom Response Features
I would like to highlight a few unique features of Qwizdom student response systems that can enhance discussions and help facilitate participation. The 'Pick' feature allows instructors to randomly call on a student. So if you need to get the group talking and no one volunteers, click the '1' button on the Q6 remote or the
'Pick' feature on the Question Toolbar. The student's name, participant number or group name will appear on the screen. Hint: You will need to present using a class list to view student names. If you are using groups, create a class list with the group names and select that list in the presentation setup window.
After polling a group of students, the instructors can to see what groups, participants or students have answered. Results can be viewed privately on the Q6i instructor device or displayed to the classroom.
Display a List of Responses to the Group Press the '3' button on the Q6i or
Results on the Question toolbar. Then click 'List View'.
Privately View Responses on Q6i Press '2' and the Graph appears on screen.
Press the button below 'Details' and a list of options appears.
Using the Arrow keys, scroll to Details and press the
'Select' key. A list of names will appear on the screen.
Press the button below Back to change views or go back to the main screen.
Instructors can also use the 'Pick Special' feature on the Q6i to call on a participant from a specific group, including those that have answered correctly or incorrectly. Click the '0' button on the Q6i remote using the arrows keys scroll to 'Answered Correctly' or 'Answered Incorrectly' and click the
'Select' key.
A participant number, student or group name will be displayed to the group. I hope you have gained some insight and perhaps a few new ideas on how to enhance discussions, encourage participation and improve learning using classroom clickers. To learn more about Qwizdom Response solutions visit www.qwizdom.com.
References and Resources
Categories:
Tags: student response system , student response app , classroom clickers , using student response