Women's History Month – Women and the Vote
March 12, 2019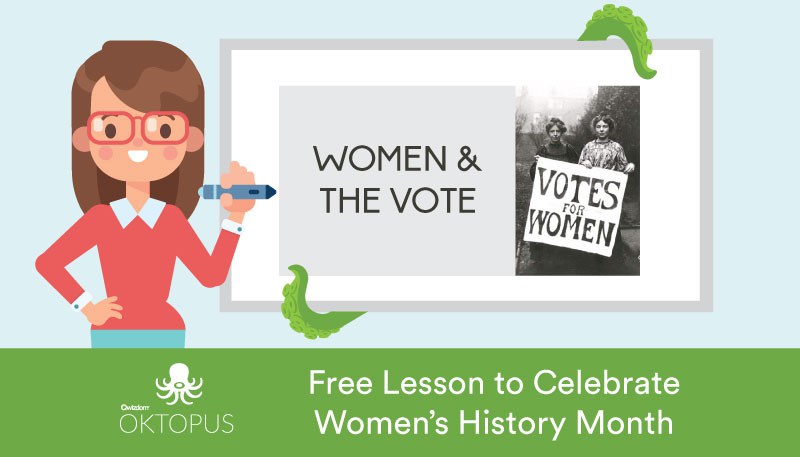 "The best protection any woman can have … is courage."
Elizabeth Cady Stanton
March is Women's History Month and the internet is teeming with resources to help your students recognize the strong imprint women have made in American history. Qwizdom OKTOPUS has an exceptional free lesson on women and their fight to vote in this country. The lesson focuses on the work of visionaries such as Elizabeth Cady Stanton, Susan B. Anthony, Lucy Stone, and Alice Paul. Annotate and add to the lesson using OKTOPUS tools for interactive boards and panels. You can also add polling questions as you navigate through the lesson, creating a truly interactive experience for your class. Access this free lesson, and more free lessons, by following the instructions below to create a free account:
Step 1: Create a free online account
Open OKTOPUS. Click on the settings icon. Select 'Log in To My Account.'
Click 'Not Registered.'
Complete the form, including state, district, and school.
If you have a product key, click 'Yes' and enter the key. If not, click 'No.'
Agree to terms and click 'Submit.'
Click the 'activate account' link in the verification email.
Re-open OKTOPUS, go to the settings icon. Select 'Log in To My Account.' Enter username (email) and password to setup in registration.
Check the 'Save Credentials' box.
Step 2: Search for Lesson
Congratulations! You've created an OKTOPUS account and are logged in, ready to search and download from the thousands of free lessons available in Language Arts, Math, Science, and Social Studies. For Women's History Month, why not start with 'Women and the Vote'?
Click on the tools icon. Click on the 'Standards Tools' button, then select 'Lessons' from the menu.
Click on the 'Lessons' icon.
In the search field, type "women." The lesson 'Women and the Vote' is the first lesson that appears. Click 'Download' and save the lesson to your PC.
In OKTOPUS, go to the file icon, select 'Open, and browse to the newly downloaded activity (womenandthevote.qap). Select and open the lesson. Click here to download: Women and the Vote.
Step 3: Present and Poll
It is always helpful to review any lesson before presenting to the class, but the lesson is ready to go even if you don't. Click-Play simple!
To present the lesson, click on the settings icon. Select 'Start Session' and begin the lesson. This setup will include a quick tutorial on how students can join in the lesson using their devices.
Navigate through this rich lesson about the notable women who fought for equal voting rights. Read their impact on how women are acknowledged today as equals to men, and recognize the foundation laid for further movements in women's equality.
Gauge student learning using the Vote Tool. Click on the 'Standards Tool' button and select 'Vote Tool' from the menu. From 'Question Tools' and select a question type. Polling questions foster engagement and boost discussion. Here are some questions you can use to get started:

Who said, "I have ploughed, and planted, and gathered into barns, and no man could head me. And ain't I a woman?"

Susan B. Anthony
Alice Coup
Harriet Tubman
Ann Howard Shaw

The woman's suffrage movement began in 1848. True / False
The American Woman Suffrage Association and the National Woman Suffrage Association later joined forces and became the National American Woman Suffrage Association. True / False
Suffrage came to women in these Western states between 1883 and 1912:

California, Colorado, Idaho, and Nevada
Arizona, Colorado, Idaho, Nevada
Arizona, Colorado, Idaho, Washington
Colorado, Idaho, Washington, Montana
For more on how to set up a presentation and question types, read the section "Collaboration and Polling" in the Qwizdom OKTOPUS User Guide.
Take advantage of what Qwizdom OKTOPUS has to offer, including free lessons like this. What a perfect way to get your class involved in their learning, especially with important topics such as women and the right to vote. If you want to know more, go to www.qwizdomoktopus.com and sign up for a free 30-day trial.
Categories: Audience Polling
Tags: womenshistorymonth , women's history month , voting rights , voting , interactiveboard , interactive whiteboard software , free lesson , student engagement